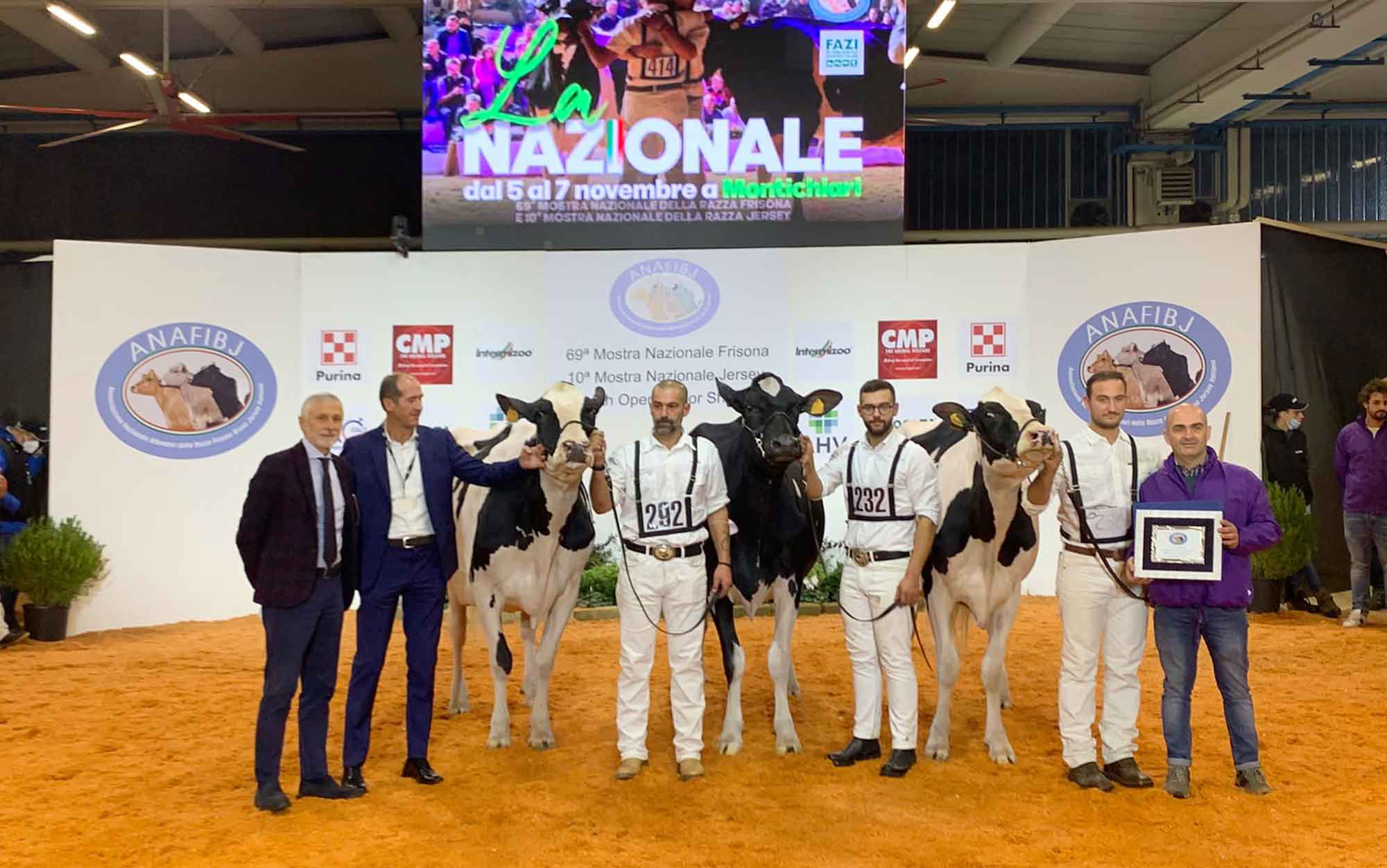 The 93rd FAZI rewards Modena: it wins the 69th National Exhibition of Frisona "Dotti Silver Wanda" by Gianluca Dotti
The ring of the 93rd edition of the FAZI Fiera Agricola Zootecnia Italiana brings good luck to Gianluca Dotti, 49, from San Possidonio di Modena. At the debut in Montichiari of the National Holstein Show, a cow from his breeding wins the title of "Absolute Champion".
According to Judge Massimo Capra, the golden palm goes to "Dotti Silver Wanda", a five-year-old cow in her fourth lactation, which also wins the "Best Udder" award. of adult cows.
Sky-high satisfaction for Gianluca Dotti, owner of the "La Corte di Dotti" company of 800 head, of which 400 in milking and the entire milk production delivered to the La Cappelletta di San Possidonio dairy for the production of Parmigiano Reggiano. "It is the first national team I have won and I am very satisfied – he says -, above all because no exhibitions have been organized for two years due to Covid and therefore it is an immense pride and satisfaction for the whole company".
The title of "Reserve Champion" of the exhibition flies to Mantua, with the cow "C.M.E. Atwood Genny "by Errera Holsteins and Nure Holstein Kennel.
"Honorable mention" for "Sabbiona Tiky" from the Sabbiona di Ireneo and Francesco Ciserani farm in Brembio di Lodi, a company that conquers the top step of the podium in the "First breeder" ranking.
"First exhibitor" for the Bertoletta farm of Omero Zilocchi & c. of Pegognaga (Mantua).
The 10th Show of the Jersey breed. In the morning, the FAZI ring in Montichiari saw the triumph of the bovine "Baruf del Primero Sally", an animal owned by the agricultural company Viganò and Baruffini of Verbania, as the "absolute champion"; "Cow reserve champion" to "Hera Priscilla" of the Bertoletta di Zilocchi di Pegognaga farm and Hera Farm. "Honorable mention cows" for "C.M.E. Chrome Vanessa "of the Errera Holsteins agricultural company of Borgo Virgilio (Mantua).
The complete rankings are on the Anafibj website.