FAZI - Italian Zootechnical Agricultural Fair
FAZI Italian Agricultural Livestock Fair
FAZI This is the event dedicated to the primary sector, agricultural equipment and zootechnics scheduled from 16 to 18 April at the Centro Fiera in Montichiari (BS).
With an exhibition area of approximately 40,000 square meters covered, the 93rd edition of FAZI promises to be an event of absolute importance for the sector. Combining innovation and tradition, the Montichiari Exhibition Center will propose a complete exhibition, aimed at all sectors of the supply chain, thus reconfirming its historic vocation for agriculture.
The 2021 Italian Agricultural Zootechnical Fair will be able to count on the presence of the most important Italian and international brands of agricultural machinery and equipment (soil processing and haymaking), equipment and products for animal husbandry, solutions for stables and animal shelter and breeding facilities, with a renewed attention to energy from renewable sources that allow to reduce the management costs of farms.
As per traction, the FAZI Italian Zootechnical Agricultural Fair is confirmed as a zootechnical showcase of absolute prestige.
As per traction, the FAZI Italian Zootechnical Agricultural Fair is confirmed as a zootechnical showcase of absolute prestige. The event, in fact, will host a wide program of exhibitions and zootechnical events: 69th National Show of the Italian Holstein Friesian and Jersey Dairy Cattle, promoted in collaboration with ANAFIBJ, the Cunicola species registry exhibition, the Haflinger horse exhibition and the poultry exhibition. .
The FAZI is also confirmed as an appointment of great interest for the proposal linked to conventions, in which the Montichiari Exhibition Center is confirmed as an attractive pole throughout the year. The program of conferences, round tables, seminars and specialized workshops will focus on the main current issues for those working in the primary sector, with particular attention to environmental sustainability, genomics and profitability.
Live the FAZI in safety
The 2021 edition of the FAZI Italian Zootechnical Agricultural Fair dedicates the utmost attention to anti-COVID-19 measures. Thanks to AEFI, the Italian Exhibition and Fairs Association, the Italian trade fair system has developed a protocol, shared with the Technical Scientific Committee, which defines a set of common rules with the aim of organizing trade fairs safely, to protect visitors. , exhibitors and workers.
THE RULES FOR VISITING THE FAIR
GREEN PASS
To access the fair, the Green Pass must be presented in digital or paper form.

1.
Each input is equipped with a thermoscanner for detecting body temperature. Entry is not allowed with temperatures above 37.5 °.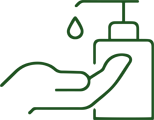 2.
Before entering the fair, it is mandatory to sanitize your hands. Also inside the pavilions and along the route of the fair, there are numerous points for hand sanitization.

3.
It is mandatory to wear the mask correctly inside the exhibition halls.

4.
The exhibition layout is designed to easily guarantee the possibility of spacing. Within the exhibition center, visitors are required to respect the physical distance.
Orari
Dalle ore 9.00 alle ore 19.00
Dove
Centro Fiera Montichiari - Brescia
Biglietti
€ 12 Intero - € 7 (Ridotto ultrasessantacinquenni) - Ingresso gratuito fino a 12 anni