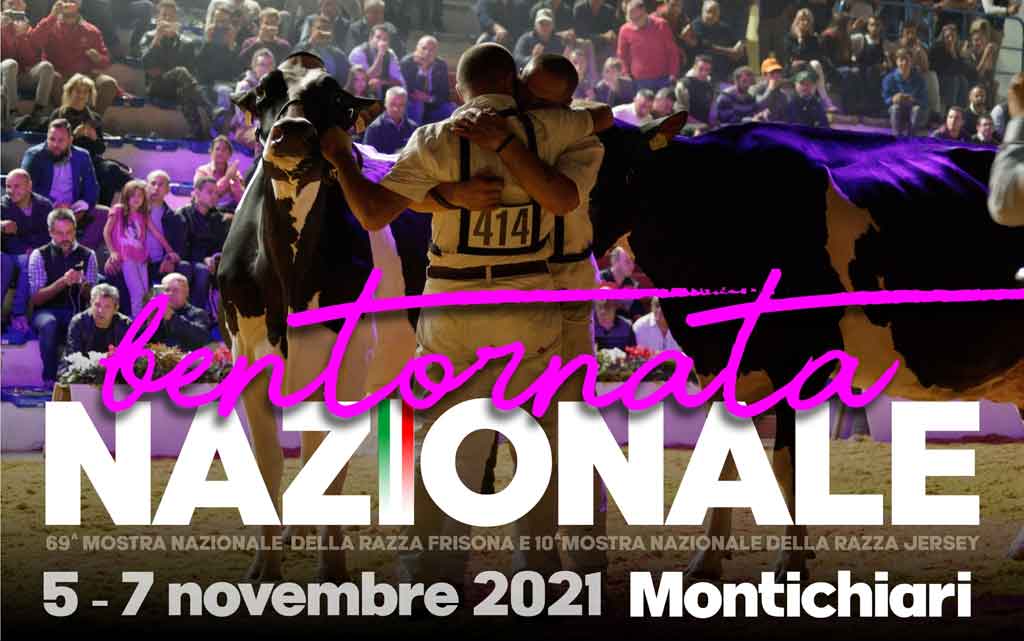 In Montichiari the winning formula of one and only ANAFIBJ National Friesian and Jersey Show
From 5th to 7th November the FAZI Italian Zootechnical Agricultural Fair will host the 69th edition of the National Show of the Friesian and Jersey breed promoted by ANAFIBJ. The exhibition is the one and only, for historical value but above all for institutional mandate from the Ministry of Agriculture (MIPAAF), to be recognized as international. The expressed formula boasts 69 years of history of a National exhibition that involves ANAFIBJ as the only worldwide recognized Association.
Keeping the Herd Book, genetic improvement, selection programs are the flagship of ANAFIBJ. The Italian judges who will be called to judge the scheduled exhibitions are now recognized all over the world: for the Frisona Massimo Capra (Official Judge), Emanuele Balliana (Associate Judge) and Attilio Tocchi (Reserve Judge); for Jersey Marco Ladina and Giuseppe Beltramino (Reserve) and finally Paul Petriffer for the Open Junior Show.
Centro Fiera di Montichiari is preparing with a completely new environment, with a specific safetybusinnes protocol with the most up-to-date systems in the field of prevention against COVID-19 and some precautions designed to improve and ensure maximum comfort for animals, as well as with actual improvements in the structures intended to house the technical-operational staff. Montichiari will therefore be the worthy location to represent a zootechnical company that increasingly looks to research, innovation and insights in the field of animal selection.
Special attention will also be reserved for exhibitors and all young participants in the 9th edition of the Open Junior Show, an event that will have an international dimension, scheduled from Thursday 4 November to Saturday 6 November, with the usual grooming competitions, Morphological Judgment , Conduction and quizzes of a zootechnical nature. Starting from Saturday afternoon the 69th edition of the National Friesian Breed Show will begin with the Evaluations of the heifers and heifers categories and the Junior Group Competition, while on Sunday it will see the competitors parade in the morning at the 10th edition of the National Jersey Breed Show and in the afternoon it will continue with the Evaluations of the Cow Categories, the Senior Groups Competition and the Absolute Final of the Friesian Breed.
Among the important events to remember, in addition to the 9th Open Junior Show, the 69th edition of the National Show of the Friesian Breed and the 10th edition of the National Show of the Jersey Breed, the program also includes technical and institutional conferences aimed at operators in the sector.
Everything can be followed online in streaming and visible all over the world.